The Art Institute of Chicago once presented an exhibition titled Van Gogh and Gauguin: The Studio of the South (2001-2002) which provided a fascinating look into the lives and paintings of influential artists, Vincent Van Gogh and Paul Gauguin. Van Gogh loved to paint sunflowers, and since we plant sunflowers in our yard every summer—sometimes with help from the squirrels—we were excited for the opportunity to see one of Van Gogh's most famous works, Vase with Fifteen Sunflowers.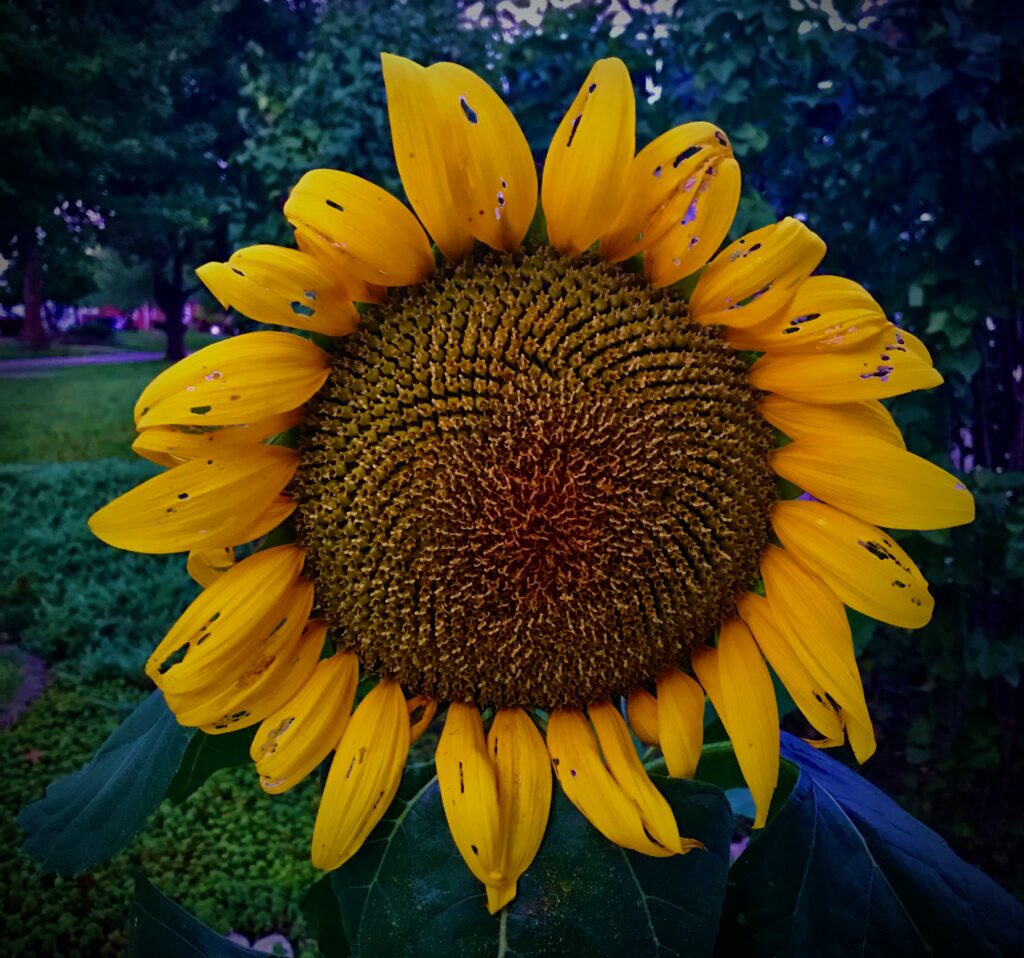 To our surprise there were two versions of Sunflowers on display (Arles, December 1888 and late January 1889). We learned that there are as many as twelve versions of this painting. Van Gogh wrote that he created them all "with the three chrome yellows, yellow ochre and Veronese green and nothing else." The Van Gogh Museum in Amsterdam states that "in this way, he demonstrated that it was possible to create an image with numerous variations of a single colour, without any loss of eloquence."
The Studio of the South show resonated with me. Here was a clear example of the importance of repetition (by that I mean practice) in the creation of art. The commonly held notion that creatives are naturally gifted people whose great works are the simple result of a spontaneous release of creative energy, is a myth. While there are the occasional one-hit-wonders and happy accidents, more true art comes from repetition, failure, rejection, study, more repetition, and more failure, than comes from the proverbial bolt of lightning. American painter Jackson Pollock famously said "I don't use the accident; I deny the accident."
To me, this was further confirmation of the artistic imperative that drives creatives in every discipline to improve their skills through repetition. Like many artists, Van Gogh was not celebrated during his lifetime, but he still painted every day for the same reason musicians practice, and composers, authors, playwrights, and poets write, because they are driven to do so.
Art is a lifelong pursuit that offers no guarantees of success, yet creatives continue the chase. One of the most popular music memes that regularly circulates through social media is from renowned Spanish cellist Pablo Casals (1876-1973). There are a number of variations of this quote but essentially Casals is asked why (at his age) a master cellist such as himself continues to practice every day. "Because I think I'm making progress" was his meme-worthy response.
Casals used variations of this quote throughout his life, adapting it as he grew older, but there is more to the story. It began in a 1946 New York Times article titled Casals at 70: Great Spanish Cellist Waits for Country's Liberation. In the article, cellist and Julliard professor, Maurice Eisenberg quoted from a letter Casals had written to him at the end of World War II.
"Now that the enemy has been forced to leave, I have resumed my practicing and you will be pleased to know that I feel that I am making daily progress." To Casals, improvement was a daily pursuit that continued throughout his life. It is an important distinction to note that he believed he was making progress rather than trying to achieve perfection or to become famous. He was already famous when he decided to put his career on hold for more than a decade in order to advocate for democracy in his native Spain. To most creatives, attaining perfection or becoming successful is only part of the equation. Success means different things to different people.
One of the most successful bands in history is The Rolling Stones. But when asked what success meant to him, drummer Charlie Watts—who passed away on August 24, 2021, at the age of 80—said that "success meant being good enough that you would get to play every night."
For more than 60 years, Charlie and the Stones did just that. And by that measure alone, The Rolling Stones were successful, yet Watts believed that they were also still improving. He said "I think The Rolling Stones have gotten a lot better. An awful lot better. A lot of people don't, but I think they have, and to me that's gratifying."
And what about achieving perfection? Measurable improvement over time is a healthy and sustainable approach to making art, but true creatives also know that becoming obsessed with perfection can lead to self-doubt and paralyzing fear. If the only measure of success is perfection, then why bother at all if it is unattainable? On the other hand, what would happen if one day an artist does achieve perfection; then what?
What would a baseball pitcher do after throwing a Perfect Game? In baseball, a perfect game is considered to be a complete game pitched without a runner reaching base. It is one of the rarest feats in baseball and according to Major League Baseball.com there have been only 23 true perfect games since Lee Richmond pitched the first one for the Worcester Ruby Legs on June 12, 1880.
For a musician, a perfect performance is even more rare—like Unicorn rare. I don't think I've ever heard a musician (seriously) say that they've given a perfect performance. There may have been a few musicians throughout history who have performed flawlessly, but for most, there's always something that could've been played better, performed more expressively, artistically, or effortlessly, and if nothing else, faster!
After throwing a perfect game, or even a no-hitter (a subset of the perfect game in which a pitcher allows no hits but batters still reach base), every pitcher knows that the next day they might just as easily give up ten homeruns (or more likely get benched after two). Regardless, they return to the ballpark the next day to try to do it again; to see some improvement­­; to paint another sunflower.
For a true creative, the journey is more important than the destination. Satisfaction is more valued than success, and the ability to stir the emotions of others is far more meaningful than achieving perfection. Such dichotomies make it easy to lose sight of why we make art in the first place. For me, being a musician means making someone's life a little brighter and their burdens a little lighter with music and laughter. Many artists throughout history have shared that same mission.
After completing perhaps his most significant work, Die Schöpfung (The Creation), Joseph Haydn wrote "[a] secret voice whispered to me: There are in this world so few happy and contented people; sorrow and grief follow them everywhere; perhaps your labor will become a source where the man bowed down by care or burdened by business matters will find peace and rest."
So, I continue to practice, compose, and perform daily because, like Casals and Watts, I believe that I'm making progress too. And like Van Gogh and Haydn, I plan to keep painting sunflowers and attempting to lighten the load of others for as long as I can—in hope of somehow lifting up those who are bowed down by care and burden. Of course, pitching a perfect game, like Lee Richmond, would be cool too but I'm not holding my breath.
Listening:

Citations:
Contributors. "Sunflowers." Vangoghmuseum.ni. https://www.vangoghmuseum.nl/en/collection/s0031V1962
(Accessed February 20, 2022)
Art Institute of Chicago, "The Studio of the South: Van Gogh and Gauguin." Chicago. September 2001-January 2002. https://www.artic.edu/exhibitions/2835/van-gogh-and-gauguin-the-studio-of-the-south
Thanks to the Quote Investigator for providing insight on the Casals quote.
https://quoteinvestigator.com
Eisenberg, Maurice. "Casals at 70: Great Spanish Cellist Waits for Country's Liberation." New York Times. Arts and Leisure, Page 45, Column 8, New York. December 29, 1946
Contributors. "Perfect Games in Baseball History." Major League Baseball. com. https://www.mlb.com/team/photos/perfect-games.
(Accessed February 20, 2022)
Mangum, John. "Joseph Haydn: Die Schöpfung (The Creation)." Los Angeles Philharmonic Program Note, Gustavo Dudamel, conductor, https://www.laphil.com/musicdb/pieces/1543/die-schopfung-the-creation.
(Accessed September 18, 2021)