You can get some pretty strange ideas while mindlessly pushing a smoky, sputtering lawn-mower around in the middle of a deep East Texas heat wave. It was the summer of 1972 and I was mowing lawns to earn money to be able to make the scene at the Longview Rollercade that night. As I sculpted ever-shrinking geometric designs into the thick Bermudagrass—like a Michelangelo of Mowing—my mind began to wander and I was deep in thought. On that particular Saturday, I was pondering my future as a musician. Having been a percussionist for nearly three years, I felt that something needed to happen in my musical career this year—something big!
As I stopped to refill the gas tank and wipe the sweat from my eyes, it hit me. I should join the Longview Symphony. At that moment the decision was made, my mind was made up, and I decided to ask my private drum teacher, Mr. Don Lawler, if I could join up.
In 1968, Mr. Lawler and Dr. James Snowden had formed the Longview Symphony Orchestra and Mr. Lawler was principal timpanist. In December 1971, Mr. Lawler had invited me to attend the orchestra's first *Children's Concert and dress rehearsal so I could watch him in action. Seeing him on the stage convinced me that playing music was what I wanted to do for the rest of my life. (You can also get some pretty strange notions sitting on the front row of an orchestra concert)
*Dr. Snowden recognized very early the importance of Children's Concerts in the development of both future musicians and audiences. His dissertation from the University of Colorado is titled: The Role of the Symphony Orchestra Youth Concert in Music Education.
So, at my next lesson I made the request and, after a considerable amount of persuading and begging, Mr. Lawler agreed to discuss the matter with my junior high band director, Mr. Jimmy Yancey. After some discussion, they decided that I could probably read music well enough to at least smash a cymbal or bang a bass drum on cue every now and then. After all, smashing and banging is a defining characteristic of all percussionists—right? They, in turn, convinced Dr. Snowden, who was the fledgling orchestra's conductor, to try me out under two conditions: I must first behave myself and second not do anything stupid, or say anything stupid. It sounded like three conditions to me, but I wasn't going to argue. I was in the orchestra!
The big night came for my first rehearsal with the Longview Symphony and I was so excited that I arrived two hours early and sat twitching with anticipation on the steps of the high school band hall just waiting for my chance to do some high-class smashing and banging. Eventually, the doors opened, and I and the other, much older, musicians filed in. "Some of these people look really old," I thought to myself, "they must be in high school or something."
As I made my way to the back of the room, I didn't see Mr. Lawler or any other percussionists for that matter. Who would show me the ropes? I didn't know which of these confusing parts I should play and perhaps most important, I didn't know that the first hour of rehearsal that night was for strings only! But "I can handle this," I thought, "I have three years of experience after all."
The Percussion parts were laid out neatly on a music stand and Dr. Snowden called up the first piece for rehearsal. I grabbed what I considered to be the most interesting part, the "timbales" (Actually, I took that part because it was the only word on any of the pages I recognized). I quickly went to fetch the two small, gleaming chrome drums used commonly for Latin-American dance music, and known to all good percussionists as "timbales." The percussion music was interesting and had some notation that I had never seen before. It was composed by a person with a funny French-sounding name.
Dr. Snowden gave the downbeat and we were off and running. The strings sawed away passionately to which I added "rrrrap-tap-tappy-tap" on the timbales with a fervor that might have made Ricky Ricardo jealous. Yet try as I might, the two parts just didn't seem to go together. One at a time, members of the orchestra began to turn around and stare. Older members shook their heads, the younger ones (girls in particular) giggled, and then turned away. "They must be impressed," I thought, "they can't believe what a great job I'm doing back here, and at such a tender age."
Finally, my infernal tapping became too much for Dr. Snowden to bear. He stopped the orchestra and inquired as to what—exactly—I thought I was doing. When I replied that I was playing the timbale part, the entire orchestra erupted in unison laughter. How was I supposed to know that "timbales" was actually French for timpani? You know—timpani—those massive, copper, kettle-shaped bowls that produce the most grand and dramatic sound of the percussion family and even the entire orchestra. Grand and dramatic, not rrrrap-tap-tappy-tap.
That was to be my introduction to the Longview Symphony, and the first of many important lessons I would learn from them. The orchestra ladies took me under their wing and taught me a variety of valuable lessons such as that dark socks are much preferred to white socks when wearing a tuxedo, and how to tell if your cummerbund is on upside-down (after learning what a cummerbund is of course).
A few of the lessons were harder but no less important. I once missed a dress rehearsal for a big concert. When I showed up the night of the concert, Dr. Snowden wouldn't allow me to play. I sat on the stage throughout the entire concert then stood at the edge of the section whenever the other percussionists played. I watched my parts go by unplayed and hoped that my mother didn't notice that I wasn't actually doing anything. It was one of the few concerts she was able to attend, and all I did was stand there. Lesson learned!
I played with the Longview Symphony from ninth-grade through high school and into college; my formative years as well as theirs. I started in the orchestra as "Danny" but by the next season, I had been promoted to "Daniel." With the LSO I was exposed for the first time to great repertoire such as the Overture to Candide, Academic Festival Overture, Carnival of the Animals, Carmina Burana, and The Pines of Rome, to name just a few, and I got to sit next to musicians who were much better than me which is how you grow as a musician.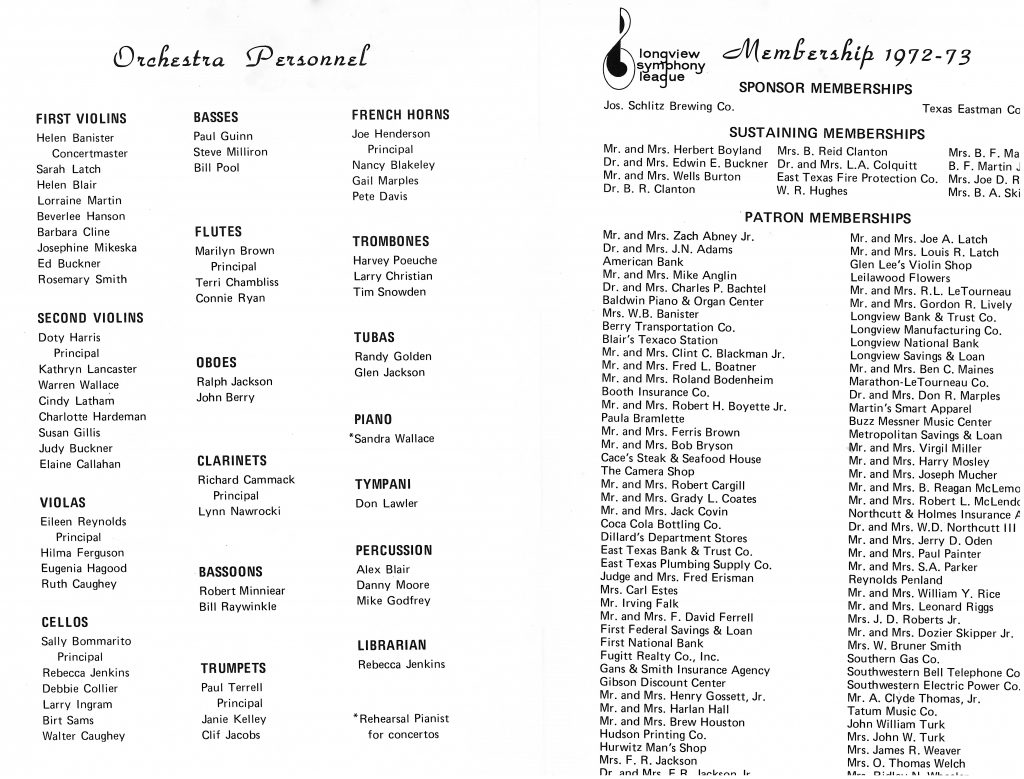 The first time I performed Igor Stravinsky's Soldier's Tale was in 1976 as a high school senior. In his dissertation, A History of the Longview Symphony Orchestra of Longview, Texas from 1968-2011, Author Gene H. Moon wrote "The work was performed by first desk players in the orchestra: Betty Grout, violin; Walter Caughey, cello [sic]; Richard Cammack, clarinet; Winnie Voss; bassoon; Gary Jordan, cornet; Lynn Childers, trombone and Danny Moore, percussion." It was one of the highlights of my senior year even though Dr. Snowden changed my name back to Danny—the name he calls me to this day—in the concert program. Though not known to me at the time, this concert also happened to be a turning point for the orchestra. Writer Suzanne Thomas of the Longview Daily News wrote that "Snowden chose four compositions to comprise possibly the most difficult program yet played by the local musicians." At the time I had no clue that the little community orchestra was struggling to find its way just like I was.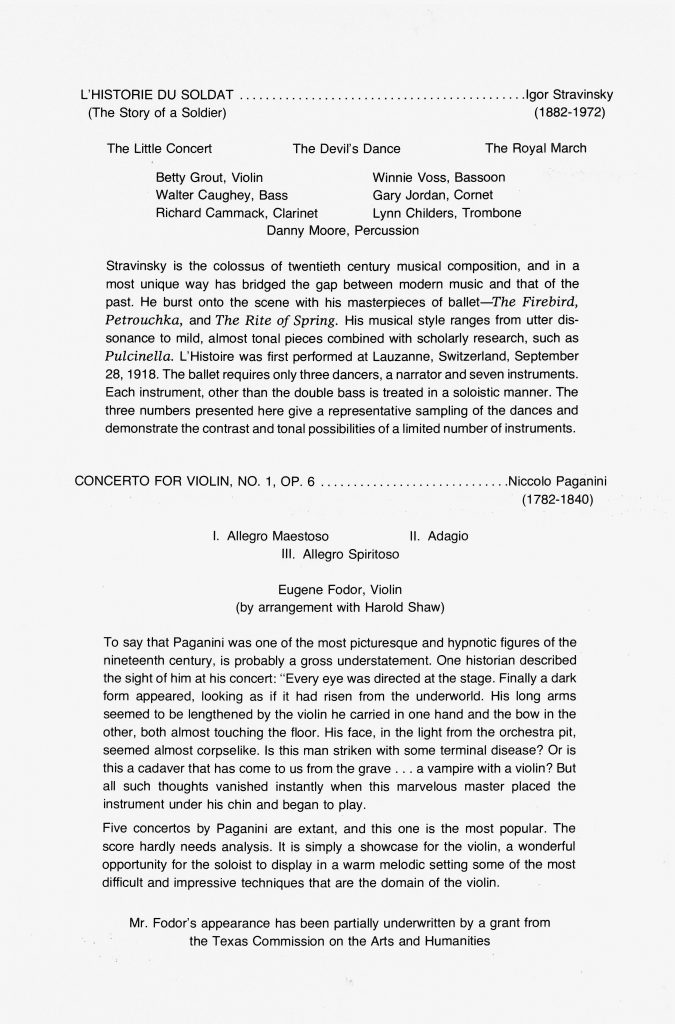 In the early days, The Longview Symphony always swung for the fences in both repertoire and in guest artists. I had the opportunity to perform with artists such as Eugene Fodor, Gary Karr, James Dick, Ralph Kirshbaum, and others. Those years paved the way for a professional orchestra still operating more than fifty years later.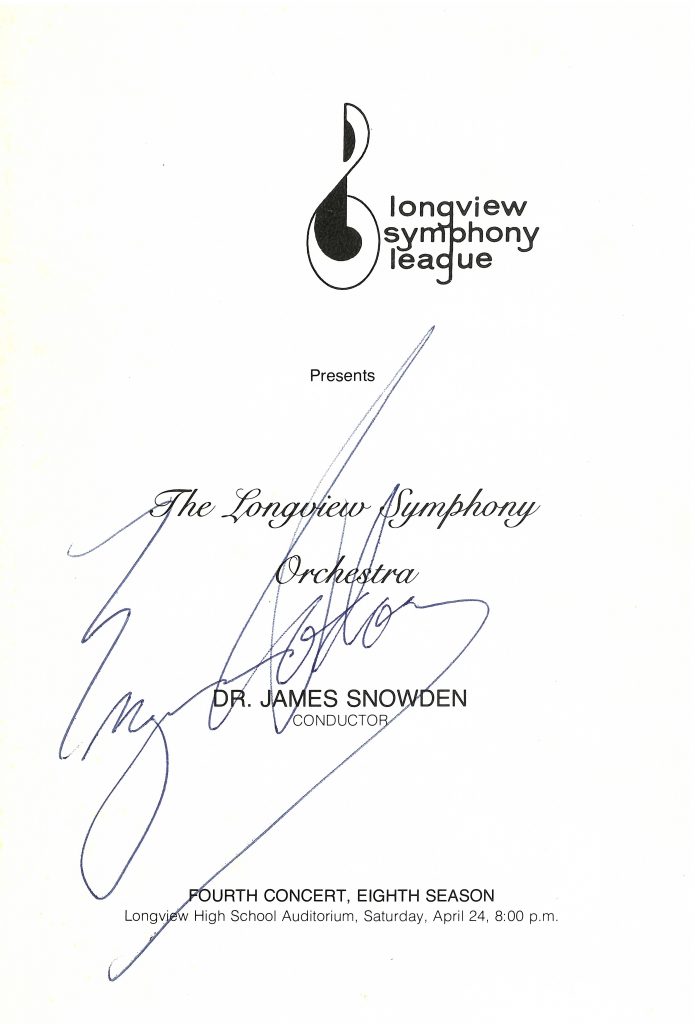 But perhaps the most important lesson I learned from the LSO—one I would never forget—was the French word for timpani.
Fast forward some twenty-odd years and I find myself in the middle of the biggest exam in my college and professional career; the exhausting two-day comprehensive examination for the Doctor of Musical Arts degree in percussion performance at the University of Kentucky. For part of the exam I had to identify works and composers from a single page of a score. Everything was going well until I came to a page and drew a complete blank. I was tired from the exam and couldn't think straight, but just as I was about to give up, I happened to notice the word "timbales." Suddenly, I was transported back to that first night with the Longview Symphony and trying to figure out why this composer with a funny French-sounding name wrote for Ricky Ricardo timbales. The words I needed flowed out like grass from a side-discharge mower. Thanks, Longview Symphony!
Danny Moore is a 1976 graduate of Longview High School where he was a member of the Band, Jazz Band, and was president of the Orchestra. He played percussion with the Concert Choir and for Theater Department productions, and served as a percussionist with the Longview Symphony from 1972 to 1979. He is, however, no longer known as the Michelangelo of Mowing.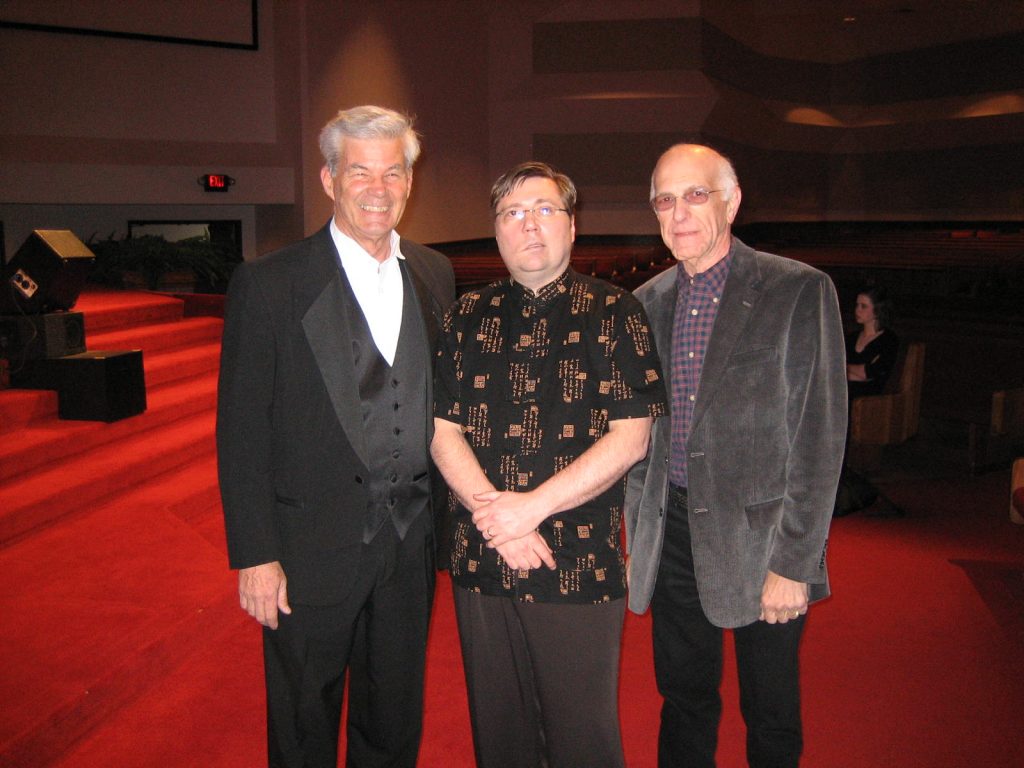 References:
Moon, Gene H. A History of the Longview Symphony Orchestra of Longview, Texas from 1968-2011, DMA thesis, University of Oklahoma, 2012
Snowden, James Wyn. The Role of the Symphony Orchestra Youth Concert in Music Education, PhD thesis, The University of Colorado, 1979
Thomas, Suzanne. Longview Morning Journal, "Symphony Shows High Polish Here", Monday, April 26, 1976.